Conscious Cards & Wrapping Paper
Not surprising, we're seeing a lot of non-recyclable wrapping materials being put in the recycling after the holidays. At first glance, it seems like all gift wrap, tissue paper, and cards would be recyclable, but a closer look reveals that much of it is not.
Tissue paper is made of short fibers that are not high enough quality for recycling, so it should always be composted if it can't be reused.
A lot of the cards and gift wrap we see nowadays have mixed media, which makes them aesthetically pleasing but can be a problem for recycling facilities, because it causes damage to equipment and results in contamination of the source recyclables.
This coming year, whether it is a gift for a special occasion or "just because," try to avoid wrapping paper and cards that contain non-recyclable materials like glitter, sequin, rhinestones, buttons, etc as well as shiny, metallic, and holographic paper, which leaves metallic flecks in the paper recycling process. It's also a good idea to be mindful of the way ribbon, yarn, and twine is used so that it can be reused.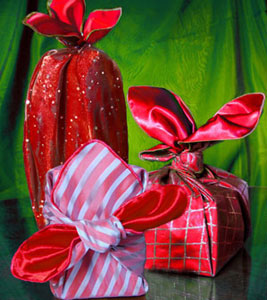 Need some inspiration? Try these simple tips to make eco-friendly cards and wrapping:
Turn your old receipts, scrap paper, junk mail, and copy paper into cards from handmade paper.
Use scrap cloth, the arms from old sweaters, or a festive bandana to wrap gifts. The gift wrap can become part of the gift!
Wrap gifts in newspaper, old maps, or kids' drawings.
Make your own wrapping paper by reusing paper bags paired with paints, markers, and stamps.
Give presents in reusable gift bags.
Reuse, reuse, reuse. Be sure to reuse that wrapping paper!
If you receive a card or gift wrapped in mixed media and reuse isn't an option, try to remove the non-recyclable materials before depositing into the recycle bin, to help avoid contamination to the recycle process.
Have other tips to help us green our gift wrapping? Post your photos to our Facebook or Instagram pages.