Executive Staff and Board Members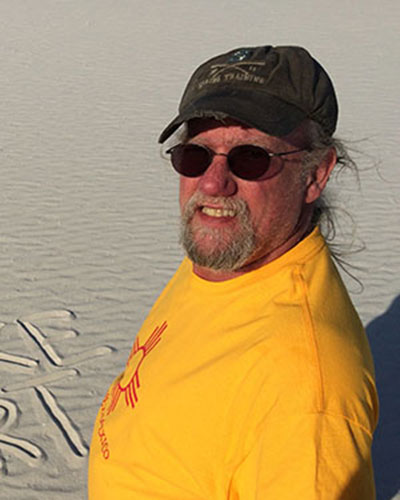 Mark Mayer
President
Mark and his wife moved to Orcas from Seattle where they retired from a successful cabinet-making business they had run for over 30 years. They have been residents of Olga since July 2009.
As part of his early business plan, he developed strategies for designing and producing 'green' cabinetry. He worked with suppliers to purchase responsibly sourced wood materials and carried that philosophy to hardware specifications and finishing. He and his wife continued their 'green' philosophy into their personal lives with consistent recycling and composting. On average, they generate two cans of household garbage every six months and are committed to reducing their footprint on Orcas.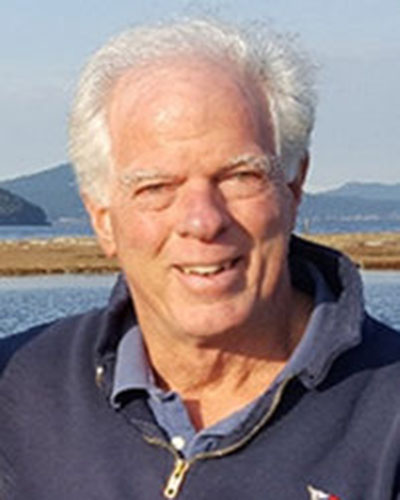 Toby Cooper
Vice President
As a member of The Exchange Board, Toby brings a passion for recycling and an aversion to landfills and trash. His time in financial services led him to often support market-based and investor-led solutions to environmental change. He has years of environmental advocacy experience, including prior careers with the professional staffs of national wildlife and land conservation organizations. He currently serves as Chairman of the Mountain Lion Foundation, Sacramento, CA. He and his wife, Sarah, love their island home in the Rosario area of Orcas and enjoy exploring and boating the Pacific Northwest waters.
Jim Duffield
Treasurer
Jim Duffield joined the board in 2016 and served as President from 2020-2022. He has been a long-time volunteer with Habitat for Humanity, and served six years on the Skagit affiliate's board, three as president. One of the founders of the Skagit HFH retail Store, he brings valuable experience to help with The Exchange. Was the first board president for Home Trust of Skagit. Prior to moving to Orcas in 2014, he worked 19 years as a project director with The Pacific Institute (Seattle); five years as a registered representative with The Equitable and Prudential; and retired as an USAF major after a 21-year career.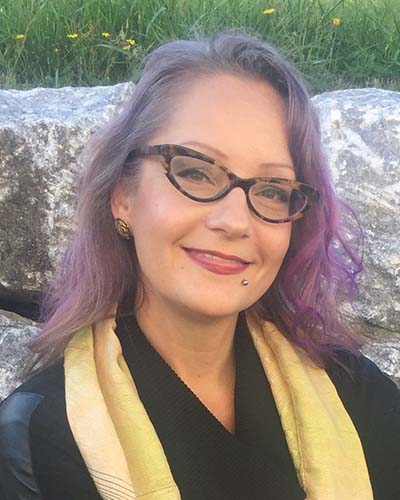 Asifa Pasin
Secretary
Asifa hails from Chicago, Montana, and Seattle and has a diverse background in volunteerism and the creative arts. She was an instrumental part of founding two dance troupes and as a student at Montana State University she was part of the Student Union Activities Board responsible for coordinating workshops, performances, fundraisers, and more, for the university community.
On Orcas Island, Asifa has volunteered at the Imagine Music & Arts Festival, the Orcas Center (as both as a performer and a lead costume designer), and has been active at The Exchange since 2010. She currently works with island-based business, Lotioncrafter and is passionate about educating others about trash and recycling reduction.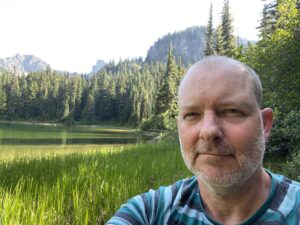 Pete Moe
Executive Director
While born and raised in the Seattle area, Pete Moe spent several years working in journalism and marketing in New York and Boston before moving his family to Orcas Island in 2006 to run the non-profit youth center The Funhouse. Once on Orcas, his interest in the environment led him to a volunteer board position at The Exchange.
In 2012, Moe became president of the Exchange Board. In 2013 he and his fellow board members led a successful campaign to take over the Orcas Island Transfer Station. In July 2013, Moe was appointed Executive Director of Orcas Recycling Services/The Exchange.
Pete is a member of the Solid Waste Advisory Committee (SWAC), an advisory panel to the San Juan County Council. He is a former board member of the Washington State Recycling Association, and is currently board president of the Orcas Island Chamber of Commerce. Pete lives in Eastsound, enjoys trail running, boating, tennis, and visits from his college-aged kids, Hazel and Henry.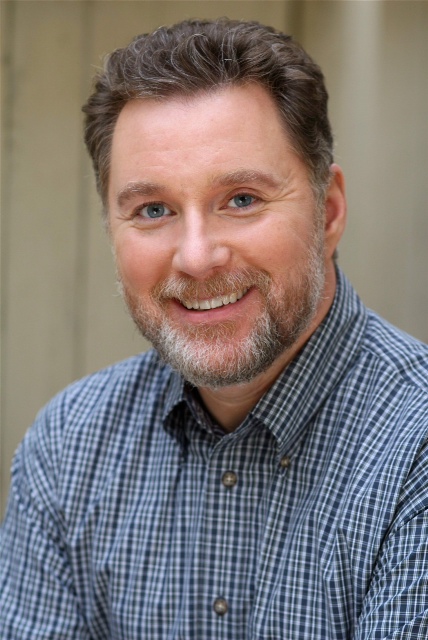 Tim Blanchard
Tim practiced healthcare law for 20 years with a leading international firm before he and his spouse "escaped from LA" and formed their own practice serving healthcare providers nation-wide from Orcas Island. He is a Fellow of the American Health Law Association. He served on the ORS Board from 2013 to 2020 and helped ORS re-establish The Exchange and navigate the regulatory and practical challenges of keeping the management of our waste-resource streams local.  He rejoins the Board to work on some unfinished business and get back to legitimately "talking trash."
Larry Coddington
Larry Coddington is a semi-retired construction professional with 45 years of experience. He has worked on projects ranging from dog houses to domed stadiums. After retiring from the Seattle area, Larry and his wife Ellen moved to Waldron Island, where they lived for several years. They now live on Orcas Island in Deer Harbor. An active volunteer in the community, Larry managed projects for the "Homes For Islanders" project on Orcas.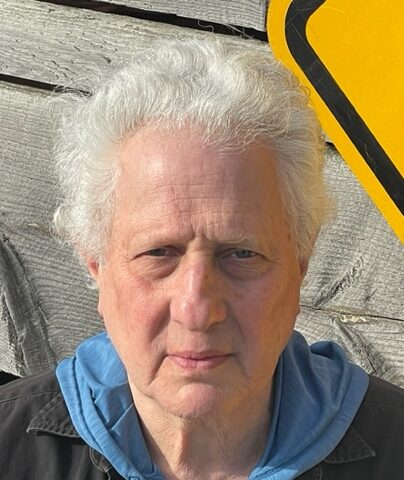 John Gratch
John grew up in Chicago and has both a lifelong association with his local YMCA, and a long history of volunteerism. He spent 12 years as a heavy industrial welder in Seattle's shipyards, followed by 30 years managing property in rural Western Washington and moved to Orcas Island in September 2017. John enjoys being part of such a supportive community and hopes to make a lasting contribution to the Board.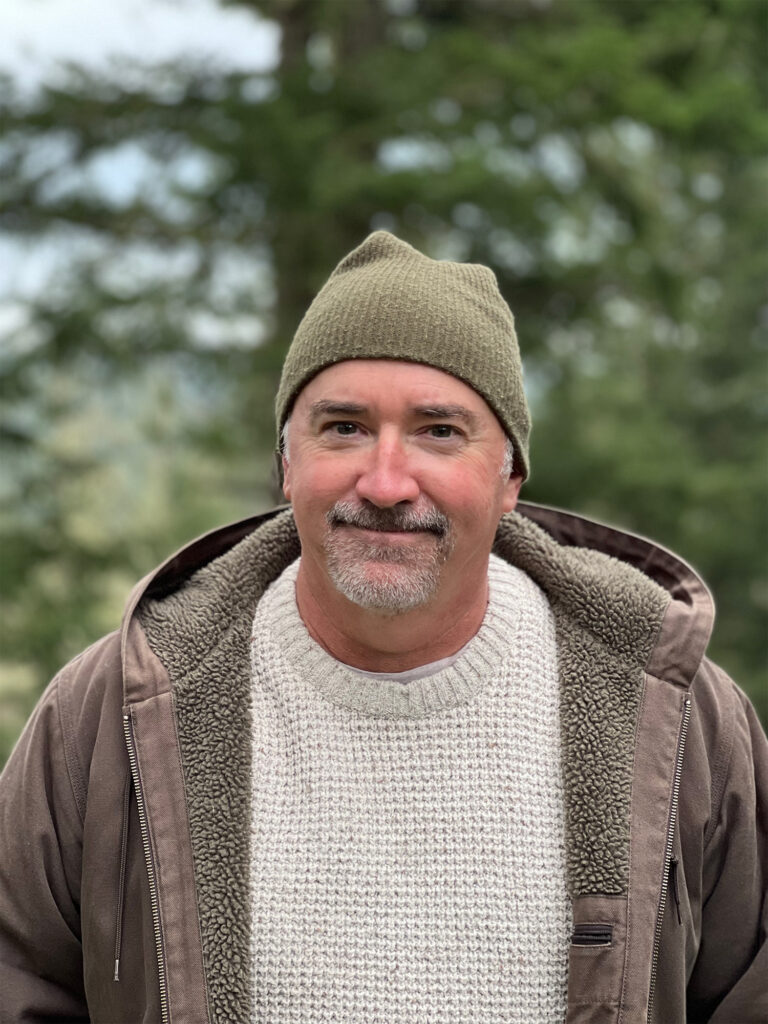 Cal Rodgers
Cal, along with his wife and two daughters, moved to Orcas Island from Austin, Texas in June 2017 after purchasing property near Moran/Olga a year earlier.
Cal has been an entrepreneur since his college days, having founded several technology-related businesses including a 3D animation company focused on scientific, forensic and engineering visualization and interactive media. He is currently a remote software developer and enjoys hiking, kayaking, mountain biking and working on his property.
Since moving to Orcas, Cal has participated in several Great Islands Clean-ups and is enthusiastic about supporting the mission of the ORS/Exchange.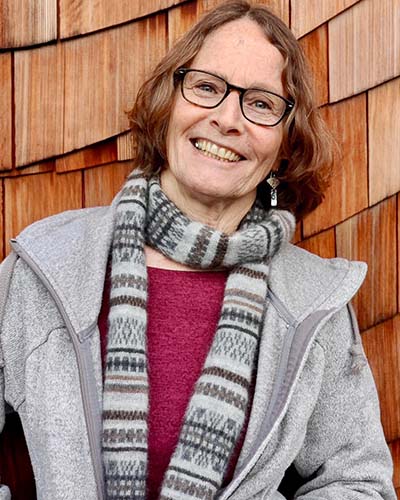 Nancy Schafer
At 15 Nancy worked weekends at a Portland recycling company. She has worked for Garbagio's, Oregon's first curbside recycling service which included food waste she diverted to her worm bins and also co-created a neighborhood group to spearhead projects including litter removal, erosion control, trail building, and native plantings. The group embedded repurposed items into cement traffic calming planters they created. Nancy moved to West Sound in 2005 with her partner, Steve Mckenna, where they built their own home using many recycled items. She is a co-organizer of the West Sound Posse for the Great Islands Clean-up, a volunteer docent for ORS, and co-founder of the Orcas United Mask Makers group. Nancy works as a Caregiver, Massage Therapist, and Jewelry Metalsmith. She is a proud grandma and passionate about gardening, worm composting, and rowing the waters around our Islands.