Skills That Matter-Sew4ZeroWaste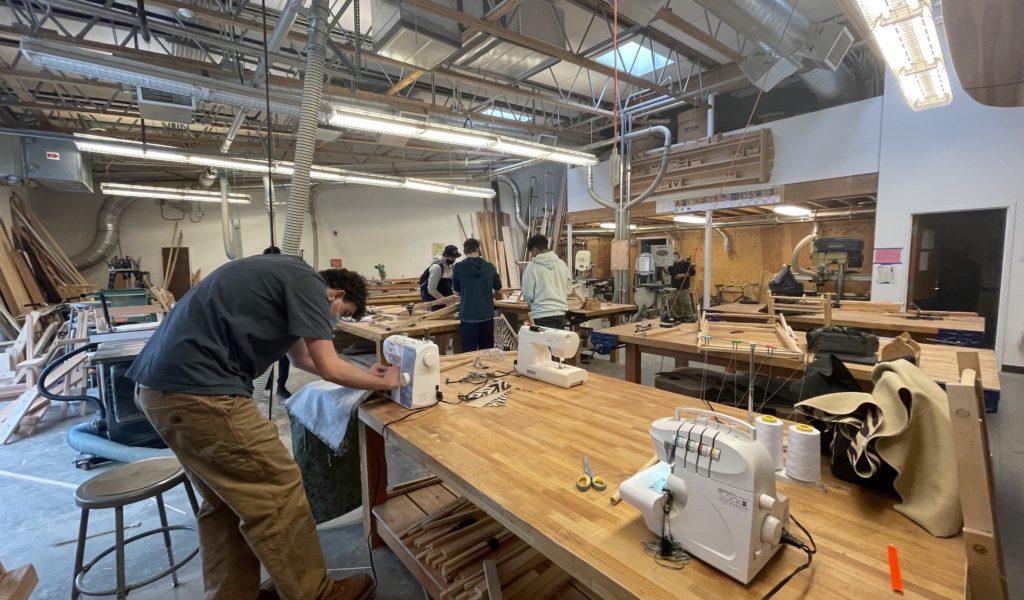 Sew4Zero Waste is a program Board Member Asifa Pasin started at The Exchange allowing community members to learn and practice sewing skills, participate in zero waste practices, and work on personal projects while networking with others. Many members of the group put in long hours at the beginning of the Covid-19 crisis sewing PPE masks and gowns for first responders and those who could not afford masks.
During the 2021-2022 school year, 31 total students were able to participate in the Sew4Zero Waste program through Orcas Island High School's Applied Physics class. Led by science teacher Brett McFarland the class teaches math and physics by making it applicable to real-world trades and skills like sewing and wood shop. 
Students used scraps of fabric and reclaimed wood found by McFarland or donated by The Exchange. Five sewing machines and 3 sergers were loaned to the class to create the fabric sling inserts for outdoor chairs.
Pasin, the Volunteer Coordinator at The Exchange, had the opportunity to talk to the class about recycling, reuse, and zero waste while also teaching them the basics of how a sewing machine works, and how to prepare, measure and cut fabric.
The class was a huge success. While it was the first time sewing for many of the students, a handful of them expressed interest in participating in future Sew4Zero Waste sewing projects. 
The skills students are able to learn in these types of applied classes do more than create hobby-level interest – it brings to life basic education and turns it into something that matters in the real world – a skill students could use to make money.
"When Brett first emailed me about helping his Applied Physics class at the high school with a sewing project I thought it would be a great opportunity to teach young folks how to sew, reuse materials, and be stewards for the environment," says Pasin. "I love how Brett integrates so many educational topics into one class – from math, applied physics, environmental science, life skills/home economics, wood shop and teamwork. What an honor it was to be able to teach and share my skills with these young adults. They all seemed to really enjoy it, too."