Secure Your Truck Load for Safer and Cleaner Roads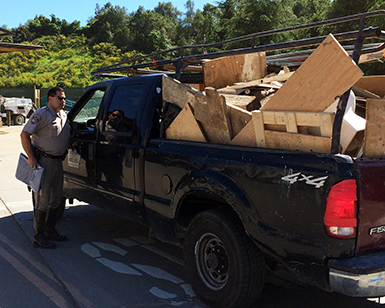 More than 12 million pounds of litter comes from vehicles each year in Washington State. Litter falling from vehicles is responsible for more than 400 accidents on Washington State Highways annually and is a major contributor to road debris.
One of the biggest sources of road debris comes from self-haulers who fail to properly secure their loads. Orcas Recycling Services would like to take this opportunity to remind you that a secured load is not only safer for people, animals, and the environment, but it is also the law. Fines range from $194 to as much as $5,000, depending on the circumstances.
A secured load has nothing that can slide, shift, fall, or sift onto the roadway, or become airborne. Here are some tips for making sure your load is secure:
Tie down using rope, netting, straps, or chains. Securely fasten large items directly to your vehicle. Make sure that any covering is securely tied down.
Put lighter items lower and place heavier items on top to help keep them in place and secure the heavy items directly to your vehicle.
Cover your load with a tarp. Covering your load with a tarp and then securely fastening the tarp to the vehicle is good way to ensure that your load is secure.
Don't overload your vehicle.
Double-check that your load is secure.
View practical tips for securing loads in this video from the Washington State Department of Ecology.
Another way you can help combat road debris is to participate in the 2nd annual fall Great Islands Clean-up on September 30, 2017 from 10am to 2pm.
Taking place in the Eastsound Village Green on Orcas Island, this county-wide greening event, which is sponsored by a grant from the Department of Ecology, rallies volunteers to collect litter from public beaches and roadways and provides them with cleaning and safety gear.
It's a great family friendly event that helps to give back to the community in a fun and rewarding way. Join us and RSVP on Facebook to help spread the word!