Orcas Glass Challenge
Ready to take the Orcas Glass Challenge?
What is it? An opportunity for artists, makers, innovators, up-cyclists and landscapers to create uses for our crushed glass made right here at The Exchange. We have already saved over 60 tons of glass (and counting) from the landfill and reduced our carbon footprint by not hauling that glass off island!
To make this program even better, we want to find creative and exciting ways to use the crushed glass on island. Thus…We invite you to be part of this exciting challenge!
How do you become involved? Come to the Exchange, check with the cashier in the scale house, and using your own container take up to five gallons of crushed glass at no charge.
Then, fire up your creative mojo!
Share your ideas on Instagram, Facebook, and Twitter using #OrcasGlassChallenge or email your photos to info@exchangeorcas.org.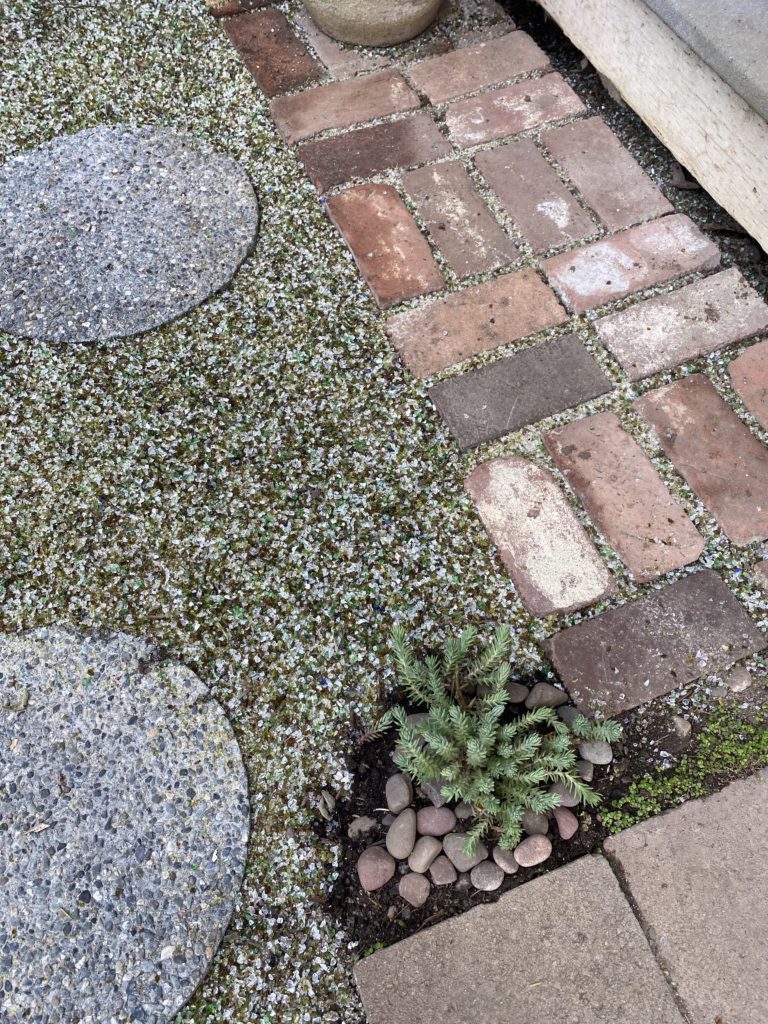 When? Official Orcas Glass challenge begins on July 1 and will go until next May, ending with a showcase of everyone's creations. Projects done by September will be featured at our September SWAP Meet at the Grange.
Why? The Exchange has lots of crushed recycled glass now. Big Blue (our cool new glass crusher—one of the few in the state) crushes the glass to the size of sand. There are lots of industrial uses for the glass, but with all the creative people here on Orcas we are excited to see what you will do with this unique material.
Upon completion of your project(s), please send us a photo of your creation—no matter how simple or complex. We will be posting photos on our website for inspiration, and we are hoping some of you will share techniques you discover.
This is a Challenge for all ages and skill levels, not a contest. We are encouraging cooperation rather than competition–tell and inspire your friends! Check out the Rotary Club of Lake Chelan's glass recycling webpage for idea inspirations!
*Safety: Unlike regular broken glass, this glass has rounded edges and generally not sharp, but should still be handled with care, and although there is no silica released in this process, avoid breathing the dust as you would any other dust.
Basic Material Possibilities:
Raw cullet mix (fresh out of the crusher).
Sifted for the sand. (white, with flashes of color, very silky)
The remaining mixed colored jewels after sifting
A Potential Bonus:
The crushed glass is a mix of clear, brown, varying colors of greens and some blues. If there is enough interest and volunteer assistance, the glass can be separated for some single color runs through the crusher.
By its nature, this will be an evolving project, (who knows where this will take us? That's the exciting part!