A Solstice Sew4ZeroWaste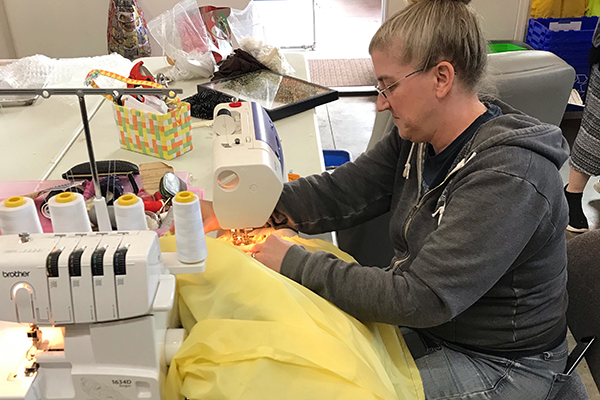 With the sun shining and work spaces set up both inside and outside of The Exchange, the Sew4ZeroWaste workshop restarted – the first since the beginning of the pandemic in early 2020. The small, but fun group of participants were able to begin putting together costumes for the upcoming Solstice Parade that will be taking place in Eastsound on June 18, 2022.
Workshop leader, Asifa Pasin is working on a Sasquatch costume she'll be unveiling during the Sasquatch Call Out and Poetry Slam and Haiku event, sponsored by the Orcas Island Public Library. This event will take place on the Village Green directly after the Solstice Parade in Eastsound. Deadline for entries into the Poetry Slam is May 16, 2022 through the Library.
Make sure you stay after the Solstice Parade to see the full Sasquatch costume!
The next Sew4ZeroWaste workshop will be held in August in preparation for the Trashion Fashion Swap Meet happening on September 10th. Email asifa@exchangeorcas.org to get on the list for the August Sew4ZeroWaste workshop – space will be limited.