Free Glass Tote Program A Success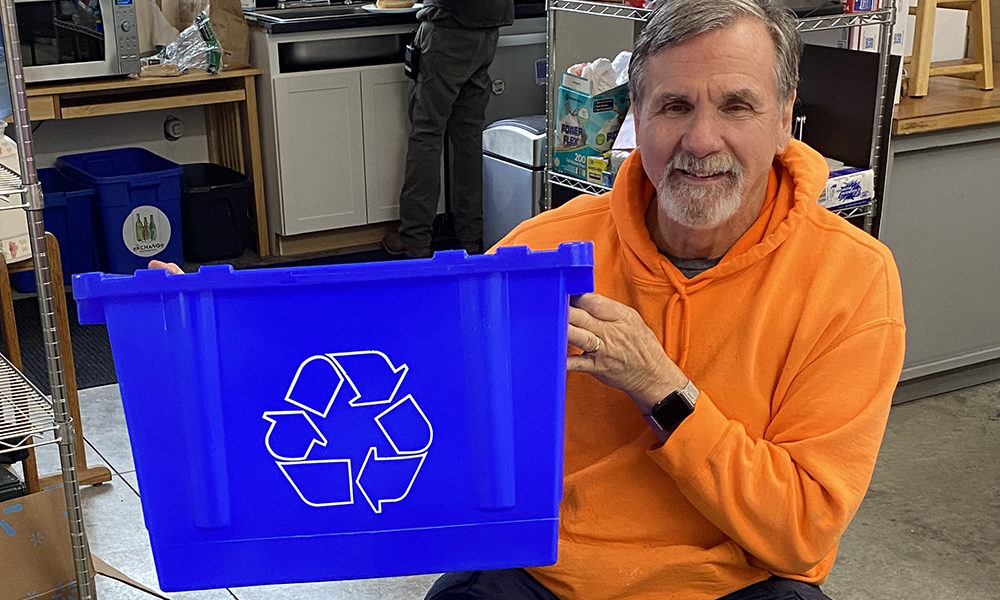 Spearheaded by our board president Jim Duffield, and thanks to a generous grant from the Can'dAid Foundation, The Exchange was able to purchase 300 plastic recycling totes to give away to Orcas residents interested in separating their glass this fall.  The program has been extremely well received, and we have officially given away all of them—so that means more than 300 households are purposefully separating glass to feed our glass crusher, Big Blue, and keep glass on the island. That is truly Zero Waste! The Exchange intends to purchase more totes and will let the public know when they are available.
We recently announced that as of November 1, 2021 ORS/The Exchange will begin accepting separated glass recycling.
Here's what you need to know about separating your glass recycling:
How much will it cost to recycle glass? 
Separated glass (and cardboard) will cost $3.00 per garbage can, or $150 per ton—an almost 60% discount.
Co-mingled recyclables will remain priced at $7.00 per can and $350 per ton.
Aluminum cans will remain free to recycle.
What types of glass can I recycle?
Glass bottles
Glass jars
Glass jugs
Window glass (broken down into piece – please wear safety glasses and gloves when breaking glass)
Mirror glass (broken down into piece – please wear safety glasses and gloves when breaking glass)
What should I do with the glass before I recycle it?
All recycled glass should be EMPTY and CLEAN
Remove all caps, lids and corks
Removal of labels is currently optional
Why should I recycle glass?
Our new glass crushing machine will allow us to reuse all your recycled glass, right here on the island! Recycled glass will be crushed to the size of sand and used as renewable landscape and construction material. Zero waste in action!
Crushing and re-using the glass on island means that it does not have to be sent back to the mainland—meaning less transportation, carbon, and cost.