Exchange Loses Outlet for Excess Clothing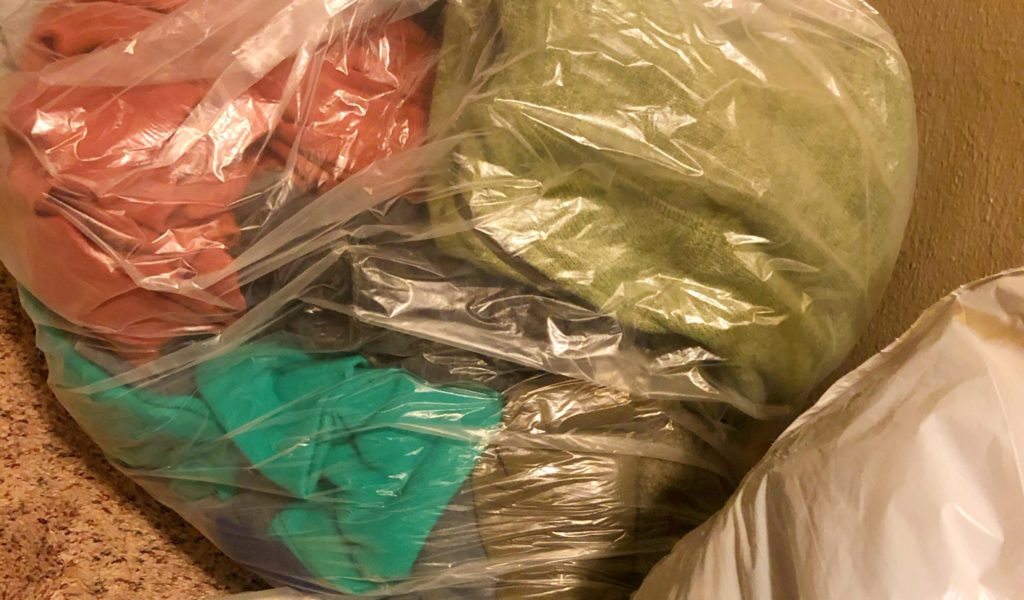 The Exchange has always received A LOT of clothes. A lot of bedding. Towels. Bags and shoes. Textiles. Way more than we could ever sell in the store.
Ever since we opened the new Exchange in November 2017, we've have had a great system for handling the excess through our "downstream" channel. We would deliver the excess material to ARC of Washington, a non-profit, who then transferred the material to Value Village. This worked great for three years––and then COVID hit. Executive Director, Pete Moe, explains how The Exchange is exploring other venues that will allow us to once again collect and sell used clothing.
Almost immediately, ARC informed us that they were shutting down operations. Not clear why (they have not returned calls as of this writing).
Calls to Value Village were not returned either. But an email from Ryan Bedford, sourcing specialist for Value Village/Savers wrote; "We are currently in an oversupply situation and not seeking additional supply. While we are committed to helping nonprofits in every community, it must fall within the capabilities of the business model."
Presumably he means the Value Village business model. Value Village had closed all its stores due to COVID, possibly the reason they could not take in material.
This got us calling around for other options. First we tried the Goodwill in Mt. Vernon, the closest Goodwill to Orcas Island.
Sarah, a very helpful manager told me that they could "maybe take in 2 or 3 three boxes per month, but even that would be difficult," she said. She also mentioned that the current drop-off wait time at Goodwill is one to three hours.
"Is it the great Covid clean-out?" I asked.
"Yep," she confirmed.
"Some attribute part of the discarded clothing glut to the influence of Marie Kondo," writes Sister Wolf, on the clothing website Miista. "What strikes Joy in her, it seems, strikes dread in Goodwill Industries."
We also called Goodwill Seattle, which is the central office for 22 stores in this region. I hoped to get someone in administration to talk to me about a glut of used clothing. I left messages with several people, no responses thus far.
Next I tried Salvation Army. In the olden-days, the pre-fire Exchange days, Salvation Army regularly sent a truck to Orcas to collect excess merchandise. This connection was unfortunately lost over time.
I called the Anacortes Salvation Army first. Right off the bat the voicemail message said: "You have reached the Anacortes Salvation Army." It listed the hours of operations, and then added: "We do not accept furniture or clothing donations."
Turns out they don't have a thrift store anymore. Darn. How about Salvation Army Bellingham? "Sure we take clothing all day," said the employee who answered. She promised to have the store manager call me back. No word yet.
Textiles are readily recycled. Besides reuse, there are many useful products made from shredded textiles, like insulation and padding materials.
That said, textiles is the one category of waste that has never been included in the list of things we recycle in this country. It's hard to say why there has never been a collection bin for your old clothes next to the ones for glass, plastic, aluminum and cardboard.
According to  the EPA, 16.9 million tons of textiles were disposed of in 2017. 2.6 million tons were recycled, 3.2 million were incinerated, 11.2 million were landfilled.
According to the World Economic Forum, the clothing industry is second only to the oil industry in creating pollution.
Until pretty recently, a huge outlet for America's discarded clothing was Africa. But the clothing was so cheap that is essentially destroyed the African textile industry. In 2019, most West African nations agreed to stop accepting the U.S.'s hand-me-downs.
Sarah, at Goodwill Mt. Vernon gave me a good tip. We were discussing Value Village, who had closed most of their stores due to COVID. "I think I heard that Value Village was opening in Bellingham soon," she hinted.
"Yes we are open," confirmed Value Village store manager Laura. I explained our situation, and that we lost our connection to Value Village with the disappearance of Arc of Washington. "Oh right—well now we work with the Northwest Center. I think they run trucks up this way."
Northwest Center is a non-profit that supports children and adults with mental disabilities. They are known to some by the "Big Blue Trucks" that circulate in the region picking up donated clothing and housewares.
I received a call back quickly from the Northwest Center. "We would love to help you, but we have suspended all collection operations until at least August due to Covid." I agreed to call her back in August.
Meanwhile, the helpful folks at Salvation Army Mt. Vernon provided another lead: First Baptist Church of Anacortes distributes clothing regularly to homeless and disadvantaged folks. We are talking with them now, and may make a pilot run with them soon.
The church, with possible occasional runs to Value Village in Bellingham may be able to take care of our excess in the short term, with Northwest Center hopefully coming back on line in August (fingers crossed).
In the meantime, we appreciate everyone's patience about our limited clothing acceptance policy at The Exchange, and we will keep you informed if it changes.