A Better Way to Get Your Milk!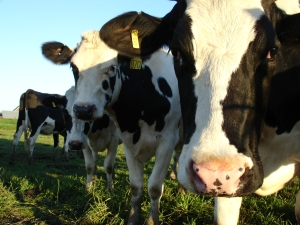 Did you know the  Orcas Food Co-op offers fresh, local organic milk in reusable containers?
Every Tuesday organic milk from grass-fed cows is delivered directly to the Co-op from Fresh Breeze Organic Dairy in Lynden, Washington.
Not only is the milk terrific, but it comes in refillable glass bottles! It's like the old days, where we all put our empty milk bottles on the back porch, and the milkman brought us refilled ones in the morning.
The Co-op and Fresh Breeze offer whole and 2 percent milk, heavy whipping cream, half-and-half and even chocolate milk. You can get pints, quarts, or half gallons. Prices are comparable to the prices of organic milk at the supermarket.
And for just a $2 bottle deposit, you can make the planet a little cleaner by not creating more plastic and cardboard waste – not to mention actually getting a better tasting product.
This is the kind of program we are going to need more of in this world if we hope to make a dent in the massive amount of waste we are sending to the landfills.
Nearly 100 Orcas households are taking advantage of this program. If you're not, give it a try!